| | |
| --- | --- |
| Posted by Hayley on July 15, 2011 at 3:11 PM | |
Anne Boleyn is my favorite of Henry's Six Wives and also just one of my favorite historical figures. But I also have a very soft spot for Katherine Howard. It was both Natalie Dormer's and Tamzin Merchant's beautiful and strong portrayals that made me fall in love with the two doomed cousins. I know others love Katherine, but some dislike her and dismiss her as a naive slut who got exactly what she deserved. I could never see Katherine this way. There are four scenes from "The Tudors" that always pop into my mind when I think of Katherine. I couldn't forget them if I tried.
1. Katherine meets Elizabeth.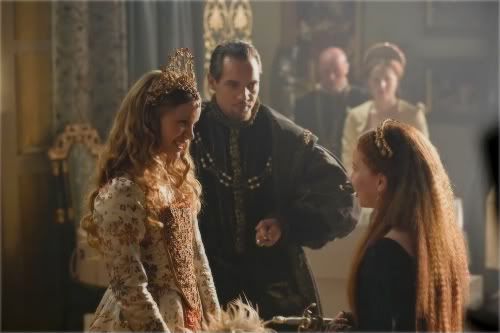 The kindness she shows is genuine. You can tell her heart is in the right place. She immediately accepts Elizabeth as her family not only by marriage but by blood. It reaffirms my belief that Katherine never meant to hurt anyone. She was quick to love and, as we all know, it led to her early death. In this scene we get to see the Katherine that only wants to love and make others happy.
2. Katherine begging Henry for her life.
This scene is incredibly powerful. I find it absolutely impossible not to be haunted by her screams. She was about my age at the time of her death. I can only imagine how frightened she must have been.
3. The Execution Ballet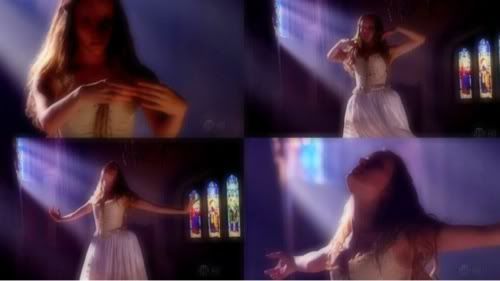 This is one of the most beautiful scenes I have ever seen on TV. The music, her dance, her voice over...everything is perfect. Showing her dance for the last time is a perfect tribute for her. It shows her innocence in a cruel world. I really can't even put into words how beautiful the scene is and how perfect it is for Katherine. It shows her entire character arc...from a carefree girl, to a Queen of England, to a doomed traitor who must accept her fate. When she ends her dance and falls to the ground, it symbolizes that the little girl we first saw is gone and in her place is a woman who will die with dignity like her cousin before her. I really must give props to Michael Hirst (writer), Ciaran Donnelly (director), Joan Bergin (costume), and Trevor Morris (Music). I know she is just in her underclothes, but I think it's a prefect choice. She's in white which plays into the innocence theme. It also reminds me very much of the famous painting of Lady Jane Grey.
4. Katherine's execution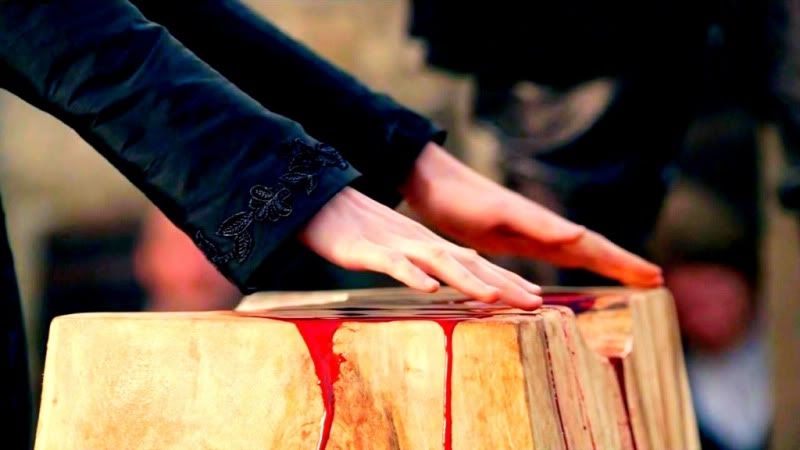 Anyone who thinks Tamzin cannot play a strong character needs to rewatch this scene. The determination and dignity on her face is not even close to the flighty Katherine we see in other scenes. I like that they had her say the line about "rather dying the wife of Culpepper". While I highly doubt she really said that, I love the fact that she said it in the show. Unlike Anne Boleyn, she had no one to protect. Anne had her daughter to protect. If she angered the king with an insulting scaffold speech, he may have cut Elizabeth out his life forever. Henry did have a tendency to view his children the way he viewed their mothers. On the other hand, Katherine had no children and no family to protect. The Howard's had used her and then dropped her when it suited them. Everyone had let her down. Why protect them? They had not protected her. I just think it's a nice little "eff you" to Henry and her family. But my favorite line is "life is very beautiful". I think this line sums up how she lived her life. She saw life as beautiful. She lived it to the fullest, almost as if she knew her life would be short. Even on the scaffold, moments away from suffering a brutal death, she still believed that life was beautiful. It's truly inspiring. Life is not perfect. We have our ups and downs. We struggle. We succeed. I've been blessed with many exciting opportunities recently and it has reminded me to take a moment to appreciate what I have. I will have periods of emptiness, but there will always be a positive just waiting around the corner. I like to remember Katherine's words and remind myself that even at my lowest points "life is very beautiful".